Barcelona Sports Hub
B-STEP Programme
In the B-STEP programme promoted by Barcelona Activa, which seeks to support the creation, incubation and acceleration of new start-ups and entrepreneurial projects in the industry, the Barcelona Sports Hub also wants to promote success stories and generate, capture and retain STEM talent.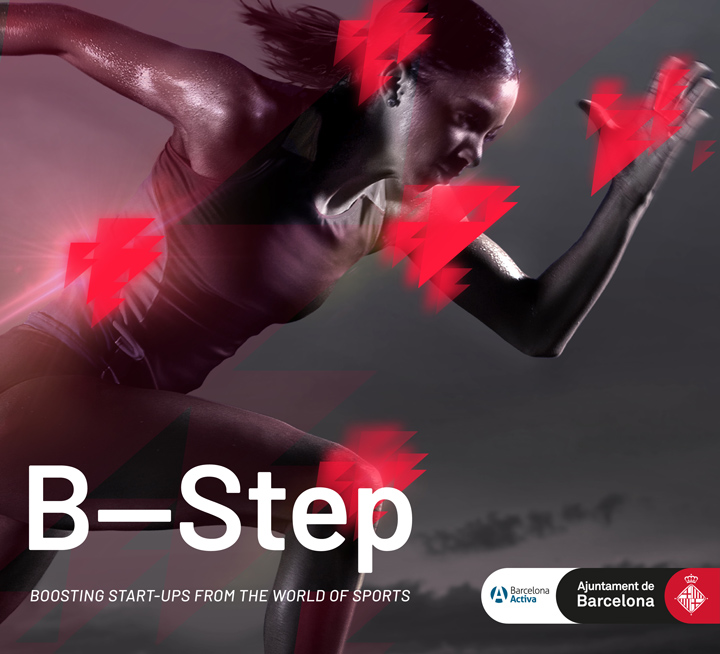 Creation, Incubation and Acceleration
B-STEP Programme
Sport is an emerging sector in the Catalan productive ecosystem, generating 2% of Catalonia's GDP. Barcelona is also the fifth city in Europe in terms of the number of start-ups in the sports sector.
Barcelona is striving to become a European benchmark in the sports tech sector in terms of scouting for start-ups, new projects, initiatives and SMEs in the fields of technology, innovation and sport.
 
In the B-STEP programme promoted by Barcelona Activa, which seeks to support the creation, incubation and acceleration of new start-ups and entrepreneurial projects in the industry, the Barcelona Sports Hub also wants to promote success stories and generate, capture and retain STEM talent.
 
The start-up candidates who wish to participate in the B-STEP programme must have a significant innovative component. To be eligible for the programme, a prototype must already be on the market or at an advanced stage of development. 
 
The programme has a group of experts and mentors in the fields of innovation, sport and technology who provide training, support and accompaniment to the initiatives by sharing their experience and knowledge. This will help accelerated projects to avoid mistakes, maximise their product and generate growth opportunities.
 
Start-ups which have been accelerated through the B-STEP programme will have access to exclusive agreements with the best partners, helping them to develop their project through the provision of mentoring services, training sessions or increased visibility. 
 
The programme consists of two phases: a first, bootcamp-based selection phase. This bootcamp will involve 20 candidates chosen from the pool of applicants. Over the course of these 4 days, the candidates will participate in a training programme and a demo day. In the latter, they will present their project in front of a selection panel who will choose the 12 start-ups to participate in the B-STEP programme. 
 
These 12 projects will access the B-STEP programme, which will last for approximately 6 months. During this time they will have access to training sessions, mentoring services and a free co-working space. They will also be able to participate in networking activities related to the sports ecosystem, fostering synergies and collaboration relationships with the aim of strengthening the start-ups. 
  
At the end of the programme, and after the selection panel has announced the winning candidates, Barcelona Activa will award a prize and a grant to the project with most potential.
 
The programme is only open to entrepreneurial projects that fall into at least one of the following categories:
Wearables
E-sports
Digital training/*coaching
Fantasy sport
Sporting marketplaces
Programmes and apps based on physical data
Tools for sporting professionals
Social platforms
Generation of sporting content
Development of new materials
Management tools for sporting activities and/or events